Bring on the cold, my catalogs will keep me warm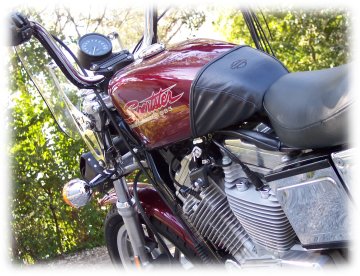 On Monday of this week it was an absolutely unseasonably amazing day, with temps in the upper 60's. Did I ride? No, and I even had the afternoon off! But, my dad's in the hospital and I needed time to do some errands for him, so I didn't get to take advantage of the late-season riding weather.
Now it's Friday and we've got a little over an inch of snow on the ground – ah, Iowa!! The snow means that I'm now working on my over-winter plan for The Picky Bitch… I talked about this last year and didn't make any progress, but hopefully this year will be different!
PB is actually a lot like me: a little rough around the edges, a few dings here and there, but a good ol' gal that works hard and appreciates a good makeover now and then. So this winter I'll be on a quest to provide her with a few of those baubles, in an effort to transform her from workhorse to chrome-dressed glamour-girl! 
The plan also includes a new paint scheme, but that will mean big bucks so I'm not sure that will happen this year. At this point all I have is a plan on paper… but like gardeners with their seed catalogs, you can bet I'll be spending at least a few nights this winter snuggled on the sofa with my HD parts book, dreaming about rolling the PB out of the garage next spring slathered in chrome!