Have you been following the series of woman-rider profiles over at Helmet or Heels? So many wonderful women being featured there the past few weeks, and today's my day! Here's a link to my nifty-difty profile on Pam's terrific blog!
Profile of a Female Motorcyclist: Meet Janet!
Huge hugs and thanks to Pam for the opportunity! If you're a lady rider, be sure to contact her through the blog and get your own self featured!
Oh! And, tomorrow (Friday May 4) is International Female Ride Day! Why not celebrate by taking a ride… learning to ride… or simply hugging a biker chick!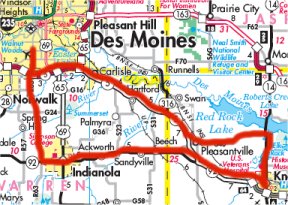 Had a nice weekend working (slowly) toward that first thousand miles on Kitten. Saturday Steve and I rode down to Route 65 Harley Davidson in Indianola then took a scenic ride home along Highway 92, 14, G40 and 5.  (Funny, I initially thought in my mind that the route would look something like a golf putter; turns out it looks more like a snoutless fish. Because that's how my brain works.)
Then Sunday, after a brief excursion to rescue Stephanie's car keys (conveniently locked in the car in the church parking lot), we took another short jaunt around the northeast part of Des Moines, converging on Kristin's new house near Saylorville Lake for a too-brief visit to ooo and ahh over her new place.
I've also been finding a few really good blog posts recently that I wanted to share, courtesy of some of my biker blogger pals around the Internets. Here they are:
First, IowaHarleyGirl is finally ridin' her own! Check out what she bought!
Then, a really wonderful ride report about the Blue Ridge Parkway by Mrs. Road Captain – be sure to study the photos!
Another wonderful ride report with beautiful photos, courtesy of Chessie.
And finally, the one-minute version of yours truly, making a spectacle of herself at Big Barn Harley Davidson. Here I am ringing the Freedom Bell after buying my new bike!

Here are a few recent links of interest to women who ride.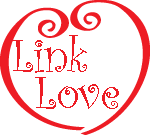 Leah wrote this piece about how she got started riding her own motorcycle. If you read a little more of her blog, you will be stunned to read about the accident and fire in her ex-husband's truck that nearly took his life as well as that of their Down Syndrome daughter. Truly a miracle that they lived. I can't even imagine what they all must be going through, but my prayers certainly include them all this week.  
The Canadian Prime Minister's wife, Laureen Harper, loves to ride the muddy trails.
Sue Pollard and 50 friends take off on a mission from Kittery, Maine.
What?? You mean WOMEN can be bad bikers too??
And finally, Froggi's off and running… hopping?? … RV'ing in the new rolling Lily Pad!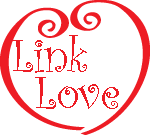 A li'l more link love goin' out to those writing about biker chicks and women who ride!
This piece from the Rapid City Journal chats up some gals – some new riders, some experienced – who've come to Sturgis.
Shirley at Delaware Curmudgeon writes about a friend she's glad to see back in his chaps.
Donna's been tryin' to keep her clothes on while her house is for sale, but that's harder than it looks.
Okay so he's not a biker chick. But remember Evel Knievel? He's not doing so well, health-wise, these days. I remember Evel's Snake River Canyon jump well… and I remember a toy my brother owned: a device that "launched" a plastic motorcycle across the room, complete with an 11-inch Evel doll that used to date my Barbies. I'm not making light… this is a sad story. I wish Evel all the best, and I thank him for providing such great entertainment.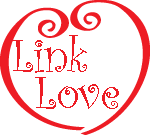 Here's some good reading about women and motorcycles from around the Web.
Neat article about the popularity of sport bike clubs in North Carolina, including women who ride these fast bikes! 
Great come-back to the "organ-donor" remark bikers often hear. 
The Sheboygan Journal looks at "the new American biker". 
A blog post from last week about H-D's woman-focused marketing. 
This article is an interesting read, too – it includes this rather bold statement: "The point is that women are becoming increasingly important to a sport that desperately needs new blood."
And finally, from July 11: a neat article about a women rider's group in Florida.