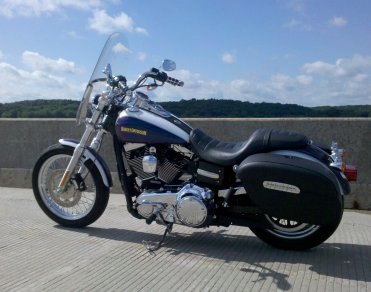 Call me egotistical, but I enjoy re-visiting old posts on this blog for a variety of reasons. Primarily, I'm able to live vicariously through my own adventures in those times (*cough* JANUARY *cough*) when snow, ice and cold make it impossible to actually enjoy the bike.
There've been a few times when having such a complete log of my riding experiences has actually been beneficial – for example, just the other day I looked up the exact dates of the "first ride of the year" for the past several years, because I wanted to say something on Facebook. And, I used the log of our 2006 Sturgis trip to help plan our 2009 Sturgis trip.
Although 2010 was a year where I didn't ride nearly as much as I wanted to, there were still some great adventures to be had! Here are a few highlights:
In all, a pretty good year. And, rest assured I've got some fun stuff planned for 2011, both on the road and on the blog!
How about you? What was YOUR favorite riding adventure of 2010? Tell us about it in the comments!
I have officially crossed the threshold of "I hate winter" and am beginning to allow myself the occasional "Spring is not THAT far away."   I know my optimism might be premature – we've had more than 5 inches of snow on the ground since the first of December, and we are supposed to get 8 more inches on Monday. But, I'm more sick of feeling depressed than I am of winter. I need to get my cheerful back, so I'm determined to talk myself out of these doldrums.
Of course, one of the ways I'm passing the winter evenings is by web-surfing. I thought I'd share a couple of the more recent bits I found that really caught my eye.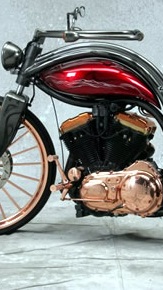 First, from Rippin-Kitten, here's a look at some ridiculously cool steampunk motorcycles. What's steampunk? Well it's a fashion/culture/design movement that takes elements from the days of Victorian-era steampower and makes them look futuristic – from their own time. Take a look at Lizzie's post (note the steampunk computer), and maybe peek at the Steampunk Fashion Group over on Flickr, and you'll get it immediately.
Next up, over on Twitter, somebody shared a link to this post on the Cyril Huze blog about new art by David Uhl. Be sure click through to Uhl's website – and take a look at his "Women of Harley Davidson" collection. I found the whole series spirited and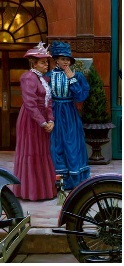 beautiful, just like the women I know who ride! (I'd love to hear your thoughts – be sure to leave a comment!)
Finally, here in Des Moines I'm looking forward to the Capitol City Motorcycle Swap Meet and Bike Show, coming up the weekend of Feb. 13-14. The swap meet serves as a dose of much-needed biker socializing and shopping at a time when it's still too early to think about getting the bike out of the garage. It makes you think you are going to survive the winter after all, and I could really use that boost right about now.
(Oh look, it's snowing this morning – isn't it PRETTY??)
Sometimes my random web reading really pays off. I have a "Google alert" set up to notify me whenever someone writes a blog post using the phrase "biker chick," and many of the results are utterly useless. THIS, however, is quite possibly THE FUNNIEST 'biker chick' story I have ever read. Check out what happens when 'Dreamgirl' goes on a date with her tall, dark and mysterious Spanish Harley rider.
Haha, Shirley's been bit by the "Iowa Historic Marker bug." She told me the other day that she really enjoyed the trip to Tama and got to thinking about other historic sites around the State, and now wants to ride to the American Gothic House in Eldon, and the Villisca Murder House. Both of which are ALSO on my must-ride list, so we will be planning those soon along with a visit to the Grotto of the Redemption in West Bend and the museum showcasing the wreck of the Steamboat Bertrand in Missouri Valley.
Cripes, if you want to wallow in accident reports, set up a Twitter alert for the words "woman motorcycle".  Nothing but death and destruction. But, there was one gem, from @MissAdventuring (Carla King) who linked to this  thorough "how-to" guide to buying a used motorcycle.
Finally, earlier this spring Harley-Davidson's very own Willie G. Davidson was a presenter at the American Country Music Awards and participated in the Chairman's Ride. Video footage of the ride is now available and features many of country music's biggest stars including: Eddie Montgomery, Troy Gentry, Toby Keith, James Otto, and Krista Marie, as well as Willie G. Davidson. Check out the ride at the HD YouTube channel.
Oh my gosh, I just HAD to post this link for you. Frank "Skootch" Pennucci shared this over on one of the motorcycle forums – pictures from a wonderful old photo album purchased at a swap meet, and originally posted/shared on Stretch's Nostalgia On Wheels blog.
Be sure to click through to the front page of the blog, too – there's some amazing stuff there!
Full Blog – Nostalgia On Wheels
Thanks to Skootch for sharing the link, and thanks to Stretch for preserving the photos for all to see.
Here are a few news stories from around the US and Canada that I've found in the past few days. Just interesting reading!
This piece from the Vancouver Sun talks about the effect of the Baby Boom generation on the bike market.
Here's an article about the 2007 Wisconsin State HOG rally, held in Racine.
And this article about the 100th anniversary of the Oakland Motorcycle Club (the club Sonny Barger rejected for being too family-friendly) is making the rounds in papers throughout California.
It's Friday – time to RIDE!! (Or depending on your weather, time to READ! LOL)
I'm not sure this post really counts as "Link Love" since these are all articles instead of blog posts, but here are a few links I found this week that I just had to share. Enjoy!
Great article about why she loves to ride by biker chick Karen DeCoster (best line: she's talking about getting her Harley Sportster 1200 in 2004: "Well imagine trying to hide that from Mom and Dad at my age. I had to…")
Here's a brief item from the Milford, NH Cabinet about Biker Chick Essentials, a neat new business in the area, just for women who ride!
Over in the UK, there's a charity run for Amazon Heart and Helen Rollason Heal Cancer Charity. What makes it special is that all the riders are breast cancer survivors.
Updated to add:
And speaking of the UK, visor tip to Rippin-Kitten for the link to Lady Biker Magazine, a UK-based magazine for… wait for it… LADY BIKERS!
In the "Just an FYI" department, here's a link to a neat story about bikers doing something they do really well: support others in their time of need.
And another cool story about a growing group of women riders who take an annual trip beginning in Manitowoc.
Here's a nice piece about women riders that ran this past week in my hometown daily, the The Des Moines Register:
Iowa Mamas Open Throttle
And, a great piece about an awesome biker chick in Appleton, WI:
Harley Rumble Lures Neenah Administrator
Here are a couple links I've been meaning to share, by or about biker chicks!
Women riders in the news at the Daytona Beach News Journal Online. Oh! And guess what: I GOT TO RIDE TODAY!! That's March 11, first ride of the year! It was upper 50's here today and I had intended to just get the bike out of the garage and clean 'er up/inspect, because we still have a patch of frozen gunk at the end of our driveway. Then my neighbor came out, got on her bike and rode away, and I thought, hell's bells, I'm goin' ridin'! I just took a ride around town on the main streets (too much sand still on the side streets), ran out of gas and had to switch to reserve and then fill up… but hey, I was so freakin' HAPPY to be out on the road. I feel SO much better!