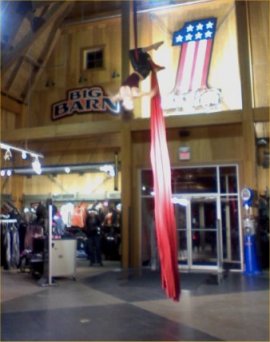 Had a fun Saturday night this past weekend enjoying Ladies Night at Big Barn Harley Davidson – a nice opportunity to socialize and shop, but with the added bonus of food and drink.
The evening event included in-store specials on apparel and parts, music by One Night Stand (GREAT group, managed to turn "Another Brick in the Wall" into a funk song, then paired it with "Shake Your Booty" – more funk with "Brick House," Prince's "Let's Go," and oddly enough one of my least favorite funk tunes, "Flashlight," which I  thought had mercifully faded into the annals of music history), door prize drawings, and entertainment by aerial artist Ann Stimmel.
Now she's worth a paragraph all her own – this gal is amazing! I had thought, when Big Barn promotions manager Amy Shane-Nichols had promised an aerial artist, that we'd walk in and see a high-wire strung across the rafters of the barn. Turns out that's not the act at all. Instead, Ms. Stimmel shimmies up a pair of floor-to-ceiling silk  fabric drapes, then proceeds to twist, turn and flip about (to music, of course) by virtue of being wrapped up in the drapes in various ways. I posted a couple of pictures on Facebook, and tried to shoot a little video with my cell phone camera (which, not surprisingly, didn't turn out all that well). For a better understanding of what Ms. Stimmel was "up to," see this Facebook album by Ann Martineau Breier.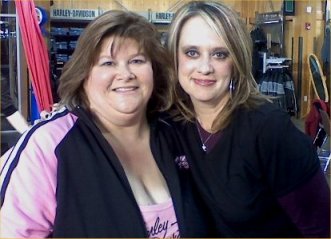 The best part of the evening though, was getting to meet my fellow biker chick blogger, Stephanie – aka, Iowa Harley Girl. Now she and I have been attending the same events for years, and commenting on each others blogs for a few of those years, but had never met in person. So, it was a delight to get to hang out with her for the evening. We were also BOTH thrilled to meet a couple of fans of both our blogs – now that is a hoot, when someone steps up to you and says "Hey aren't you that girl with the blog?"
Oh – and one other thing… something called a Mango Margarita… yeah.
How was your weekend?
Yes yes, I know, not every rider longs for a Harley. But for those who do, HD is sweetening the pot this month (yes, the month of January) with a special offer for owners of other brands. Just take your competing brand bike in for a trade, and they'll give you an extra $500 over your trade-in. (Roads covered in ice? Here's a tip – you can probably ask your dealer if they'll pick up your trade-in.) Here's the link for complete info on the HD website.
And, if you think you might want to own an HD but don't know which model is for you, check out this new "build your bike" app on the MoCo's Facebook page that will help you figure it all out.  Hey if nothing else it's a way to kill a few minutes while you're waiting for the snow to melt.
Finally, just a quick plug for one of the things I like best about the Harley brand – the community of riders. Once you do get that dream bike, be sure to join your local Harley Owners Group (HOG) chapter. You'll find an instant family of fellow riders eager to lead (or follow) you down the road.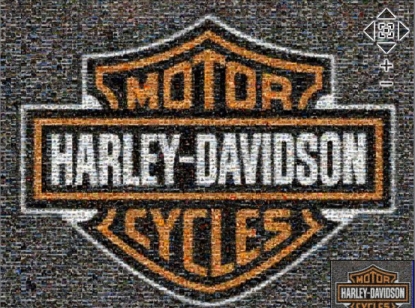 Earlier this year, the folks at Harley Davidson invited riders to submit photos of themselves and their bikes, enjoying the road and the ride. They used these photos to create a mosaic design for their 2010 new-model catalog, and provided a link to the mosaic online so those who submitted photos can find themselves in the design. Be sure to browse the online version!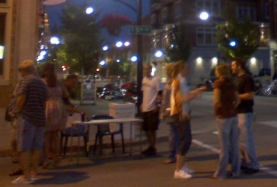 Threatening weather (which never materialized) kept most folks away from East Village Bike Night on July 10, but Saturday the 11th was a great day for a ride. We started out with a trip up to Big Barn HD for the Summer Celebration. For me that translates into shopping and free lunch – I refuse to play the silly outdoor games until they bring back Chicken Bingo, which, in case you are unfamiliar, is an amusing adventure involving a chicken and her poop.
Anyway, shopping was successful (bought a pink leather pouch to clip to my jeans) so we then headed out on a short ride by taking a slight deviation from the usual "Madrid Loop."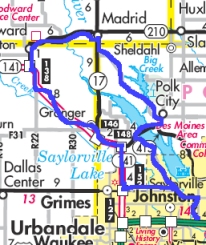 We traveled up to Madrid via NW Beaver Drive, through Polk City and up Highway 17, then west to Woodward and south to Highway 141. Headed Southeast on 141 back to 44 and then west on 44 which brought us into the north end of Des Moines at Johnston. About 70 miles total, I think, but made for a nice (if short) afternoon accompanied by Garry & Shirley – thanks guys!!
I wish I had stopped to take a picture from the Des Moines River bridge just west of Madrid. As you head out of town on Highway 210 toward Woodward, there is a row of cement pilings that used to hold up a railroad bridge. There's no bridge or trestle anymore – just the cement towers. And the river in this area has apparently been really low for a couple of seasons because it's just a small snakey stream  running through a lush green valley of a riverbed.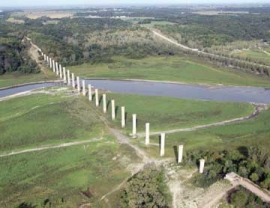 Garry tells me the towers are going to be used to hold a recreational trail, a project also mentioned on the Iowa Natural Heritage Foundation website. For now, the view of it from the highway is very surreal-looking – these man-made cement towers with no discernable purpose rising up like soldiers in a row through the grassy, nearly-dry riverbed. The aerial photo used here is from the INHF website and doesn't look nearly as alien as the view from the highway, but it does show the condition of the riverbed and the highway running parallel to the row of towers at the right.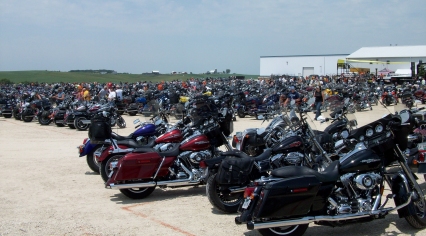 Cripes I turn around and the summer's half over! I have been MIA from this blog and all my others for a few weeks, but I am back and promise to do better by y'all who anxiously await word of my adventures. (THANK YOU for that, by the way.)
I've spent a few weekends working on my flower garden at home, but prior to that we did have two very nice rides around south-central Iowa that I will try to blog about at some point in the very near future.
For now I wanted to make sure to share the story of our recent trip to J & P Cycles Open House in Anamosa, Iowa.  Been trying for YEARS to make it to this event and for one reason or another it just never worked out.
This year it came up as a last minute reminder from Garry and Shirley so we decided to "just do it."  Keep in mind the weather here up til about two weeks prior had been cool and wet (at least for Iowa in summertime). Then we hit a hot patch, which hung in there til literally about 4 p.m. on June 27. (That's the day of the ride, for those keeping track.)
Now normally a trip to Anamosa on the bike is about a 3-1/2 hour deal, about 170 miles or so. But not for us. No, when you ride with us you have to go south to go north, which is exactly what we did. Steve and I, along with our daughter Stephanie, rode down to Carlisle to meet up with Garry & Shirley, from there to the Casey's just outside Pleasantville to pick up Chuck (Shirley's BIL), and from there (for whatever reason) decided to take "92 over to Washington." Mind you, I thought this would be straight east – but it wasn't. Turns out you just subtley keep going southeast, then, finally, just as you are crying out to the heavens "WHY ARE WE GOING SOUTH WHEN WE WANT TO GO NORTH??", you turn left at Washington and then you are going north. And realizing you still have a two-hour ride.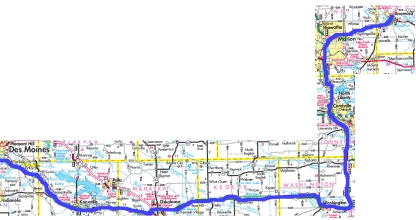 So, short version, it took us about 5 hours to ride about 203 miles from Des Moines to Anamosa. That's with our usual frequent stops for water and potty breaks, of course. Everyone likes to blame me and my tiny gas tank, but I can tell by the constant bum-rubbing that they are all secretly ready to take a break each and every time.
Anyhoo, the map shown here is NOT to give you the exact route we took – I know your eyes are too bad to actually READ it… it's just meant to show you how far out of our way we went. (And enjoyed every minute, I think… well maybe Stephanie didn't enjoy EVERY minute…)
So finally arrived in Anamosa and parked just inside the gate, great view of the "sea of bikes" but also a lonnnggg ways from the building and the activities. We found the water/food vendors easy enough (FREE water – bless you, J&P!) and tried to stroll/shop, but there were just too many people and it was too dang hot to be outside. After about 90 minutes or so we decided to head back home. (Yes, five hours in the saddle for 90 minutes of stompin' around in the heat, bitching. Is it any wonder you think bikers look crabby?)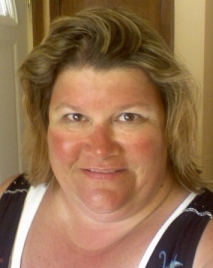 Took the most direct route home, 151 west to Marion & Cedar Rapids (hit a VERY brief patch of rain just a mile or so outside of Anamosa), then 218 South to the Interstate, then I-80 west to Newton, then 14 south to 163 (where Chuck spun off to head home to Pleasantville), and 163 west into Des Moines. Somewhere in there, the humidity shut off and it was almost cool for the last bit home. (It's that Iowa weather – if you don't like it, just wait around 5 minutes and it'll change.)
Here are the rest of the photos, most of 'em courtesy of Stephanie (our official event photographer – did I mention we LOVED taking her along?).
And, just for the record, it's two weeks later and I'm STILL sportin' that fine burn line that shows pretty clearly where my helmet and sunglasses end and my uncovered face begins.  It's good to be a biker chick!
It may not be the cover of the Rolling Stone, but still pretty cool: Harley Davidson is looking for 10,000 HD owners to be featured in a photo mosaic on the cover of their 2010 Motorcycle Catalog.  Riders around the world are invited to pick a favorite photo of themselves with their bike or of a riding experience (rallies, events, etc.) and upload it to the mosaic through the Harley-Davidson website. Of course, you must be the owner of the photo to upload it – you can't upload someone else's personal or professional work.
Here's the submission link with complete details: www.harley-davidson-mosaic.com.
Hey cool development in the Des Moines HOG Chapter, I'm now the official New Member Ambassador! Yep, I've joined the officer's ranks of our chapter, which is based at Big Barn HD. My job for 2008 will be to sign in new members at each meeting, then introduce them to the rest of the group. I think it sounds like fun, and I'm thrilled to be on board!
If you're a Harley Davidson enthusiast like me, you might enjoy this opportunity to support the new Harley museum opening in 2008 in Milwaukee.

Hat-tip to Rippin-Kitten for the link!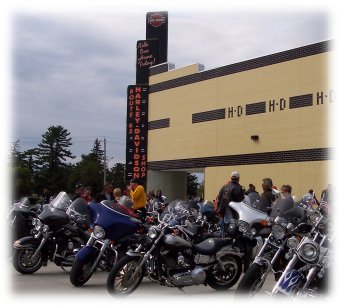 We took a nice ride with our neighbors, Kristin & Hollie, down to Route 65 Harley Davidson on Saturday for their 2008 Model Year Open House – we'd never been there before, and it's a really neat building! It looks like an old Art Deco-style building from the 30's that got turned into a hot rod shop in the 50's… except that the building is brand new. Tons of space inside… they need a few more bikes, but the '08's are not all in yet so I'm sure it will fill up in the next few weeks. Had a good lunch courtesy of the dealership, and they had live music as well. Weather was a little chilly but we had plenty of gear (except gloves! yikes!) so it was a nice way to spend the afternoon. Here's a link to the Webshots album with our photos!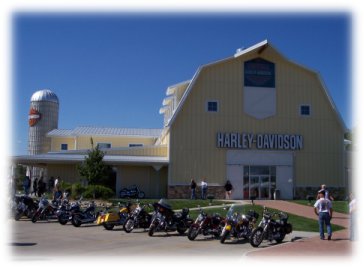 We spent a good chunk of this afternoon – again, absolutely perfect weather, with temps around 80 and bright blue cloudless sky – up at our local HD dealership, Big Barn Harley Davidson, at their 2008 Model Open House, where they had a burger feed, live music, in-store specials, demo rides, and a "bike night" event. Tonight they'll be showing Easy Riders on the side of the building as a "drive-in movie." I noticed that the 2007 Sportster 1200 Custom I had fallen in love with (raspberry and off-white two-tone) is gone, which is probably a good thing because now I can stop worrying about it – LOL. I've been working on a custom-paint plan for The Picky Bitch, which I think I will put into action this winter. So maybe by next spring I will have a very different-looking bike!
The event was nice, although it didn't look to me like they had all their '08's in the building yet. I sure like the Low Rider in that 105th Anniversary Copper and Black scheme. I took lots of pictures, though I'll admit they look pretty much like every other group of pictures I take at Big Barn events – LOL – anyway, you can see them in the Webshots album I put up. Be sure to note the gold metal flake Sporty 1200 – the photo doesn't even begin to capture the sparkle of that paint, it was pretty amazing in the sunlight!