When we moved to our new house last fall, I realized that all my  "shabby chic" and garden-style home accessories weren't really going to look right in our new late-50's ranch-style home. (Not that you could see them through all the clutter in the old house, but… I tried.)
Same with the new bike… I always thought of the Picky Bitch as my "rough and ready girl." In my mind, she was sort of old-style in looks (because of the peanut tank) and "western" in spirit – in a classic cowgirl kind of way.  So I outfitted her with bad-girl fringe, slouchy saddlebags, and "live to ride" eagle emblems.
New Bike already feels really different – sleek and lots of chromey bits (including my fave – spoked front wheel!). I did put my fringe lever covers on her, but I'm not sure they "fit" with her personality.
On the other hand, maybe she's just a more powerful cowgirl. Guess I will have to ride a bit more and let her tell me what she's all about.
Either way, I'm not givin' up my red Ariat boots!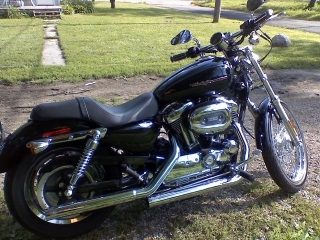 And *snap,* just like that, I'm the proud owner of a new bike! Here's my gleaming new-to-me 2007 HD Sportster 1200 Custom! Couple of changes that have to happen QUICK – need to put the stock handlebars back on it (these drag bars are RIDICULOUSLY narrow and too far forward), and it needs a windshield. But, this bike is FUN, and gorgeous.
'Course, that means my 883 will soon be for sale so watch this space for complete info. WOOHOO!
Update 1, 7/22/09: Handlebars totally fixed and COOL now thanks to Steve and Garry… also added the windshield off the 883 AND Kristin gave me a nice luggage rack to put on so I've got something to hook my T-bag to. Took a nice evening solo ride to get some bonding time – funny, she's a little sluggy at slower speeds (think that's because someone put Vance & Hines pipes on her but didn't do any re-mapping to account for them) but on the highway, she's zippy and nimble, and rides smooth. 
Update 2, 7/23/09: Here's a fun bit of minutia – I found the post on this blog where I announced the purchase of The Picky Bitch, and sharing my first impressions of her. Of the problems I mentioned, we never did do anything about the clutch and with regular use it got easier for me to pull.  And of course, I put buckhorn bars on it shortly after I bought it and rode those for a couple years, then had mini-apes put on it in 2007 and rode those for two years. The one thing I noticed that didn't "hold up" from my original post was the notion of not needing a sixth gear. The bike didn't feel strained at 60 mph, but at 75 (going across I-90 in South Dakota) I did wish for one more gear. Certainly not a problem, just something I noticed.  Kind of neat to have all this "history" recorded to look back on!