Special thanks to Andrea M. for this helpful article about protective eyewear for bikers! Andrea is an avid biker chick who lives in Arkansas and loves riding the rural scenic roads there. "I believe every rider should ride safe and ride for fun," she says. She works for www.gogglesandglasses.com.
by Andrea M.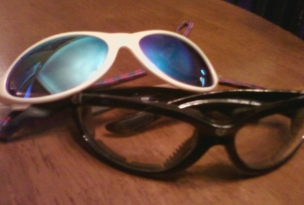 Eye protection is very important for motorcycle riders.  You never know when another vehicle will throw a rock, or a bug flies into your face. Windshields block some debris, but do not fully protect your eyes. In many states, it is a law that all motorcycle riders must wear protective eyewear. This article will provide information for selecting the best protective eyewear for you.
There are many types of protective eyewear made for motorcycle riders. These include goggles, glasses, and convertible glasses. Convertible glasses come with a strap to wear like a goggle, or arms to wear like glasses. Some riding glasses have an attached strap to both arms to prevent slipping. Padding attached to the frame of a goggle or glasses protects the face from severe impacts and provides a wind resistant seal. This wind resistant seal helps keep dirt and wind out of your eyes, and is great for sensitive eyes or those that wear contact lenses.
Always check to make sure the lens is made of polycarbonate shatter resistant material. Some sunglasses are made of acrylic material and will crack or break very easily. UV protection is important for blocking out harmful rays of the sun. I recommend UV 400 protection because it is the highest available. Polarized lenses are great for blocking glare and make objects look crisp and clear. The downfall of polarized lenses is that it makes oil slicks and wet spots harder to see. Lenses come in a variety of colors and there are "kits" for goggles and glasses available that have different colored lenses that can be switched out. Smoke or Amber tinted lenses are great for bright sunny days. Yellow, clear, and blue tinted lenses are great for night driving or very cloudy and hazy days.
Almost every motorcycle rider who wears protective eyewear has experienced a problem with glasses fogging up. Several anti-fog compounds are packaged and marketed for this purpose.  They cost quite a bit, some work great but others are a total failure.  Virtually all of them have one common component that makes them work: glycerin. Glycerin is a high-percentage ingredient in hand soap. Some soap brands/types tend to be better than others are.  Neutrogena has about the highest glycerin content of any soap.  It is a bit softer than most soap, but rubbing your finger on it, then smearing it on your eyewear works fine.  I take a chunk of it and put it in a clear, plastic 35mm film can.  Ivory soap and `Pure Pleasure' glycerin soap work very well also. To apply cut off a piece of hand soap, smear it on your previously cleaned eyeglasses, then, using a clean, cotton cloth, rub the streaked soap all over the lenses to where it's not visible any more.  Works fine, lasts a long time and works better in my opinion than any of the stuff you pay a buck or more per half-ounce for.
In my opinion, there is no #1 best option for protective eyewear. It is a matter of personal preference. One must find the pair that works best for them. I have several different pairs that I wear for different riding conditions. The most important thing is to be safe and enjoy the ride.
Many thanks to Holly N. for providing me with a wonderful multi-part series covering the 2009 Estrogen Ride, and to Vicki D. for taking such great photos!  Sounds like a wonderful time, I'm sorry I missed it this year! If you were there, be sure to add your stories in the comments!

by Holly N.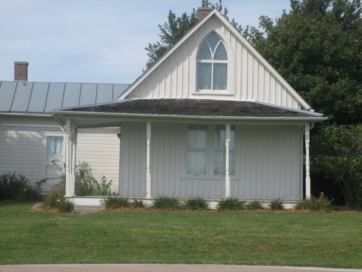 The weather gods were with us again on day 4!  We woke up in Hannibal to sunny skies and a light breeze.  After loading our bikes up we headed to Quincy IL to the H-D dealership so they could take a look at Judy's tire.  We crossed the Mississippi in Hannibal and headed north to Quincy.  Once the at the dealership, they got her bike right into the shop and checked it out.  Luckily they couldn't find anything wrong with the valve stem or anything, cleaned the tire off and it held air fine the rest of the way home.  This also gave us a chance to do some shopping and several made purchases of H-D things they just couldn't live without.
The H-D dealership is on the east side of Quincy so rather than cut through the city to cross back into Iowa, we headed north a little ways and crossed over at Keokuk.  We headed northwest on Hwy 218 to Donnellson where we took Hwy 2 west to Farmington.  This is a very pretty road that takes you through Shimek State Forest.  The original plan was to ride to Bloomfield, IA for lunch but as we came through Farmington, there was a little restaurant, The Bridge Cafe and Supper Club, that I had seen several times on trips but never had a chance to stop at.  So, being the leader I made the executive decision to stop for lunch there!  No one was disappointed!  We were shown to a private room and fed some of the best homecooking we'd ever had.  We highly recommend the sweet potato fries!
After lunch, we stopped in Keosauqua for gas.  This proved to be quite a time as only one gas station in town had high octane gas, and only one pump for it!  So we lined up on both sides of the pump and passed the nozzle back & forth.  Of course, it didn't offer pay at the pump so we'd have shut it off, turn it on and then go inside to pay!  Quite a sight!  At some point, Kathy B. turned on her music and we were all dancing in the parking area of the station.  I'm sure the locals loved us!
As we continued north, in Eldon we stopped at the American Gothic house.  This is the original house that Grant Wood used in his famous American Gothic painting.  They have a nice visitors center and the actual house is there to walk around.  It was fun to see and several gals had no idea it was in Iowa!
Eldon proved to be our last stop (except for a brief stop on an entrance ramp) so we said our goodbyes, more hugs & kisses and promises to go on next year's ride.  We made it through with no mishaps and no dropped bikes!  It's always bittersweet to end a good weekend with friends – so glad we have 2010 to look forward to!
Many thanks to Holly N. for providing me with a wonderful multi-part series covering the 2009 Estrogen Ride, and to Vicki D. for taking such great photos!  Sounds like a wonderful time, I'm sorry I missed it this year! If you were there, be sure to add your stories in the comments!
by Holly N.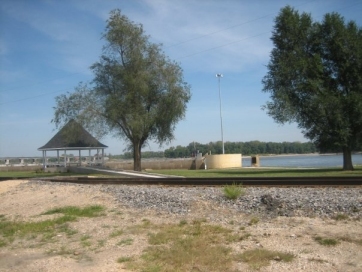 Sunday morning, Corky & Jeannie had to head home so after more hugs (we sure do that a lot!) they were on their way back north. The rest of us were heading south about 43 miles to Clarksville MO. This little town has some very cute art galleries and shops plus a lock-and-dam system on the river.
Getting out of Hannibal proved to be more of a challenge than we had expected.  After stopping for gas, we promptly got split into two group when we got seperated at a red light.  Lee's group headed north out of town (Clarksville is SOUTH) and the rest of us headed east toward the river looking for Lee's group.  Never did find them but more on that later!  My group (I wasn't leading this time!) ended up circling around town and back to the same gas station we had stopped at earlier!  Judy gets bold and asks a guy in his car at the gas station where Highway 79 is.  After trying to explain it and realizing that we just weren't getting it, he says "Just follow me".  So here are seven gals in pink hoodies following this guy's maroon Nova back to downtown Hannibal and he got us pointed in the right direction.  In our defense, I will say that Highway 79 is NOT marked in downtown Hannibal….but if you're ever looking for it, it is Third Street.
Once we found the road it proved to be a gorgeous ride through windy curves and gently rolling hills.  Lovely ride!  We still hadn't seen the other girls so when we got to Louisiana MO, we stopped at a gas station to try to get ahold of them.  Now, here's where our pink attire comes in handy.  I got to talking to another group of bikers at the gas station and asked them if they had seen another group of gals in pink hoodies.  Sure, they said, they were pulling out just as we pulled in!  So, Lee and her group had somehow gotten ahead of us (probably when we circled back in Hannibal!) and were already in Clarksville.  Such a relief to know where the whole group was again!  Louisiana to Clarksville is only about 7 miles so we were reunited in no time!
We spent some time shopping the stores in Clarksville and then road a little south out of town to Clarksville Station for lunch.  Again, a wonderful place with gorgeous gardens, a covered patio and chairs that reclined!  We enjoyed the breeze on the patio and, once again, wonderful food!  The owner (Natalie) came over and visited with us about the restaurant and her plants.  It was a great way to spend a beautiful afternoon!
Coming up next: The End, again!
Many thanks to Holly N. for providing me with a wonderful multi-part series covering the 2009 Estrogen Ride, and to Vicki D. for taking such great photos!  Sounds like a wonderful time, I'm sorry I missed it this year! If you were there, be sure to add your stories in the comments!

by Holly N.
Saturday morning the weather gods blessed us again with clear skies.  Unfortunately, Alicia had to say farewell and head back to Des Moines for a meeting…we were all sad to see her go but glad she got to enjoy a little of the trip!  L&M also has bins of towels to clean your bike off with so we all polished our chrome and gave the bikes a little sponge bath.  Lee had handed out our ride shirts before we left Des Moines and we donned them for our ride Saturday into Hannibal, MO.  Throughout the trip, our bright pink shirts and hoodies turned more than a few heads!  We loaded up our bikes, posed for group pictures (that, of course, included "Upstate"), got hugs from Lois and waved goodbye to the L&M.  We headed south on the Illinois side of the Mississippi following the Great River Road.
We made our first stop of the day in Port Byron, IL at a restaurant called "It's On the River".  As the name says, it is located right on the banks of the Mississippi with a wonderful deck we promptly took over.  Given that they really were not expecting such a large group, the proprietor and waitress did a fantastic job getting us all served.  The owner came out and visited with us and then gave us all tank tops with the restaurant's logo on them and just asked that we take a picture and send to him so he could put it up on the wall!  The food was wonderful and of course, we took this opportunity to get to know each other better, take more pictures and enjoy the lazy river.
Once again, we hit the Great River Road and even though I didn't plan to, we went straight through the middle of Moline IL.  When will I learn to read a map!  This was the first chance that we realized the hot pink shirts come in real handy when your group gets split up.  Very easy to spot!  Being the leader it is very heartstopping when you look in your mirror thinking you have 14 bikes behind you and you only see three!  We didn't actually lose anyone but we did get seperated a few times!  The road through Moline twists & turns and with stoplights, traffic, etc., it was hard to keep track of everyone.  At one point, some of us had turned around to go back and at the next stop light found the rest of the group on the other side of the road going the opposite way!  This was also when I pulled up beside an older man in his car, tapped on his window to ask directions and thought I was going to have to administer CPR!  I thought for sure he'd hear me pull up but guess my bike isn't as loud as I thought it was!
Just south of Moline is the tiny little town of New Boston IL.  Now, when you get to the junction of Hwy 92 and 17, if you turn west instead of east, you come to New Boston….and the highway ends in the river!  Not believing the sign, I had to check it out myself (by this time, the group is already manuvering their turn-around without me telling them to!)  But Illinoisians are friendly people and a couple riding around town in their golf cart were glad to give us directions to get us out of town and back on the road.  After circling through New Boston one last time (why not!) we got back on track and rode down to Nauvoo IL  where we made a stop at the historical center of the Church of Jesus Christ of Latter Day Saints. We got there about 20 minutes before closing time so didn't actually tour the facilities (although the bathrooms are nice!) but did stroll through the beautiful, peaceful gardens that are adjacent to the building.  These were lovely and we were all amazed at the variety of plants and shrubs and how well kept the garden was.
At this point, we had our first mechanical problem of the trip.  Judy B. noticed that her rear tire was low.  So Judy, Kris, Kathy, Jen & Lee headed to the convenience store in town to put some air in it.  We all meant them there and Judy's tire did have a slow leak so we decided to split into two groups.  That way, they could stop frequently to check the tire pressure and the rest of us would haul ass to Hannibal.  It was after 5:00 in the evening when we left Nauvoo and we still had some miles to cover that day.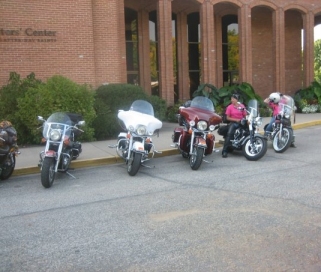 We crossed back over to the Iowa side of the river at Keokuk and promptly crossed the Missouri border.  Missouri is a helmet state so we had to do an emergency stop by the side of the road and get our helmets on before we got busted by The Man! The main group of us made it into Hannibal without further incident and, once again, I hadn't gotten directions to the hotel (minor detail!) and had to call for directions.  We stayed at the Super 8 on Hwy 61.  Your typical chain motel but Karen working the desk that night was very nice and accommodating.
When Judy and her four "road angels" arrived, boy did they have a story to share!  During one of their tire check stops, Lee noticed that Jen's headlight wasn't working.  They found an Auto Zone and bought a replacement bulb. Headlight still didn't work. Being mechanically minded, they realized that there must be a bad fuse. Out come the leatherman tools, allen wrenches, Jen unloads her bike, they pop the seat off and start testing fuses.  About this time, a man walks out of Auto Zone, takes one look at them and says "I think I'm in love!  You girls know more than I do!"  By this time, the two Auto Zone workers are basically being errand boys for our intrepid girls, running back into the store to get a fuse, electrical tape and whatever else they might have needed!  Jen likened it to a NASCAR pit crew at work!  Yes, they are bad-ass biker bitches!
Saturday night was pretty low key with a "parking lot" party on the patio at the Super 8 with everyone turning in rather early after our long road trip that day.
Day three coming up next!
Many thanks to Holly N. for providing me with a wonderful multi-part series covering the 2009 Estrogen Ride, and to Vicki D. for taking such great photos!  Sounds like a wonderful time, I'm sorry I missed it this year! If you were there, be sure to add your stories in the comments!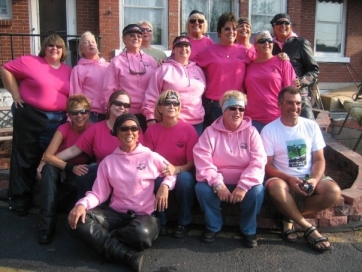 by Holly N.
What could  be better than hitting the open road with a group of gals for a four day wind-in-your-face weekend on your motorcycle?  That's exactly what happened one weekend in early September as 15 of us hit the open road "looking for adventure"!  For some of us, this was our fourth Estrogen Ride…for some, the first (but definitely not their last!)  For the entire weekend, we couldn't have ask for better weather!  Four gorgeous days of sunshine and light breezes.
We met at Big Barn Harley Davidson in Des Moines on Friday morning and after hugs, kisses and pictures, took off for our evening's destination – Savannah IL – home of Poopy's.  Before leaving DM, we decided to have our lunch break at Scooter's in Anamosa.  So off we go heading northeastish on Hwy 330.  I was leading the group again this year (my 2nd year of planning the trip) and even though I had the route marked on the map, we had a few wrong turns and turn arounds!  The worst being a 40 mile round trip "scenic detour" that landed us in LaPorte City, IA.  Nice little town…not exactly on our route but now we can at least say we've been there!  We also discovered it would be nice if they put the "Pavement Ends" signs right as you turn onto that road…instead of several miles down the road!
After several gas, potty and "what the heck" stops, we finally made it to Anamosa at about 3 that afternoon (normally, this is a two hour trip!) and enjoyed a wonderful late lunch/early dinner at Scooter's.  Great food & wonderful service for roa- weary women!  We also found out at lunch that Vicki D had never ridden farther than Marshalltown, IA!  Boy, was she going to be broken in by the end of the trip!
After lunch we continued east and pretty much a straight shot to the Iowa border, crossing the Mississippi River at Sabula, IA (the only Iowa town that is actually an island) and then south a few miles to Savanna IL.  We had reservations at the L&M Motel in Savanna and as we pulled into town, I realized I had forgotten one small detail – directions to the motel!  Well, I figured since it was kind of an older motel, it must be right on the main road through town and for once that day, I guessed correctly!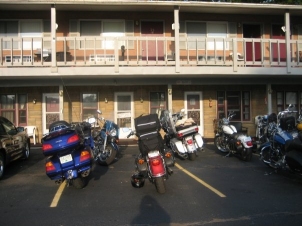 It's a unanimous consensus among the group that we would highly recommend the L&M Motel to anyone!  We were greeted by Lois & Gary and coolers of refreshing beverages and wine from local wineries. We were able to take a break and visit among ourselves and with other guests while we were checking in.  Another cool thing about the L&M is they have "theme" rooms.  My roomie, Lee, and I got the Harley room!  You need to check out their website at www.l-mmotel.com for the full effect.
After freshening up in our rooms a bit, we decided to head to Poopy's.  Now, here's another perk of the L&M – they offer free shuttle service to Poopy's or Iron Horse Saloon!  So we piled in the van & pickup truck (along with the two dogs, Goldie & Max) and hit Poopy's for more refreshing beverages, some appetizers, good band and, of course, a little shopping!  When we were all ready to go home, Gary & Lois (and the dogs!) came and got us and even made a stop at a convenience store for a few "I forgot to bring" items that were needed.
When we got back to the hotel, there was a campfire in the firepit and several of us hung out there visiting with some other guests and relaxing.  We met one gentleman that was bicycling from his home in Albany, NY (upstate NY) to Minneapolis.  We didn't get his name that night but he will forever be known by our group as "Upstate"!  There were also three other bikers from the Carlisle and Newton area and it was a blast listening to their banter.  They evidently have ridden together a lot and had many funny anecdotes to share with us.
Day Two, coming up next!
Each year, my good friend and riding buddy Holly N. organizes (or helps others organize) an all-women's ride here in central Iowa. It's very informal, usually just a bunch of friends getting together for a weekend trek around Iowa and surrounding states. (Although, there are ALWAYS coordinated shirts, which makes it at least semi-official!) I had a blast on the Estrogen Ride in 2007 but have managed to miss out on it for the past two years and have had to settle for living vicariously through stories told by the participants.
Holly was kind enough to take time to write up a thorough report for me on the 2009 ride, which took place in September,  and Vicki D. took some great photos along the way. So starting tomorrow and running through Monday you'll be able to read all about the adventures these biker chicks had without me! If you were on the ride, I hope you'll add your comments to Holly's reporting! And, if you have any photos that you dare share, feel free to send 'em to me for future use!
I'm really, really hoping to make it on this ride next year!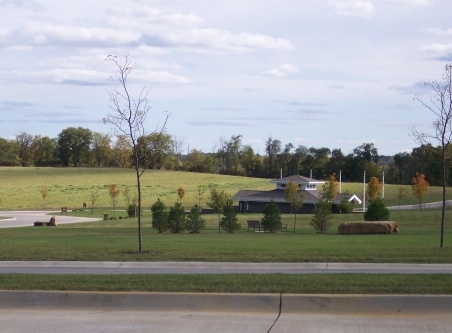 We hadn't ridden much since Sturgis, and early October's cold rainy weather was kind of a wake-up call that we'd soon have to put away the bikes for the winter. So when Sunday dawned with a bright clear sky and promises of low 60's for temperatures, I decided we needed to get out for a bit. After briefly consulting the magic map we decided to run out and see the Iowa Veterans' Cemetery just outside of Van Meter.
My local map showed that we could avoid the Interstate by simply riding west along Grand Avenue all the way to Van Meter, so we set out to do just that. A minor glitch occurred when we came upon a section of Grand that was closed with no marked detour. A slightly more major glitch occurred when Grand Avenue ended unexpectedly at a set of barricades several miles before reaching Van Meter, with a right-hand turn being the only option.
Not expecting this, but being pretty familiar overall with the concept of going one direction when I intended to go another, I knew we'd eventually end up in a spot I recognized. So we pressed on to the north and picked up Interstate 80, then headed west to Van Meter.
We arrived at the Iowa Veteran's Cemetery around 3 p.m. The cemetery was dedicated in the summer of 2008 and will serve as interment grounds for any US veteran wishing to be buried there. Spouses of veterans may also choose burial there. Because the facility is so new, there are very few actually interred at this time. Still, you can see where several sections have been started, most with only 1-2 rows of stones so far. Several permanent buildings also dot the rolling hillsides (a cemetery office, a building where committal ceremonies are held), as well as a large memorial, and there is a section where stones can be erected in memory of veterans buried elsewhere. (More information is available on the cemetery's website at https://www.iowava.org/vetcemetery/.)
We stayed for about 30 minutes and then rode down into Van Meter, where we stopped at the Casey's General Store. I asked the clerk there about a way back to Des Moines that didn't involve the Interstate. He immediately told us about "F90," the county road that I had thought was the western stretch of Grand Avenue. Despite the fact that I reported Grand Avenue ending in a forced right turn, he insisted that F90 would take us straight into Des Moines.
We left Van Meter and picked up F90 at the south end of town, then headed east back toward Des Moines. Turns out the clerk was right – F90 ends at Grand Avenue not too far from those barricades, and if we'd turned left there on our way west we would have avoided the forced right turn to the north. Ah well, all in a day's work – it was a nice ride, if a bit short in deference to the cool weather. Hoping to organize a return trip to this area next summer!
If you were able to participate in the 2009 Ride for the Cure event in central Iowa, please share a little in the comments section about your experiences – would love to hear from you!