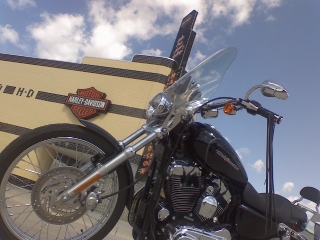 Just a quick report on the other half of this past weekend… I took a little solo ride on Sunday afternoon (I hardly EVER ride alone) just because I heard the bike calling me. Rode south again down to 92, then west a couple miles to G45, which I took South down to New Virginia. Stopped for a butt break in the bus turnout at the school, then continued west on G76 til it T'd at Highway 69 at a town so small it's not even on the map – Medona, I think it was called.
I took 69 north back up to Indianola, where I pulled into the parking lot of the closed-on-Sundays Route 65 Harley Davidson. I love the retro look of this huge building, so I parked in the empty lot and snapped a few pictures of the bike in front of the signage. Headed on up to Highway 92, west to R63, and north to home.
This was a neat little ride, and overall I enjoyed the alone time. But, it sure was different riding alone. A few times, I was aware of bikes traveling behind me. I always thought of my pink helmet as a kind of beacon for the friends riding with me so they can keep me in view, but on this ride I was aware that the pink lid (and my bright pink tank top) clearly identified me as a girl traveling alone. Not saying I don't trust my fellow Iowans – I freely admit my imagination gets the better of me sometimes – but you just never really know who's behind you or what they're thinking. Didn't prevent me from enjoying the ride, but it did make me think a little about what I'd do if I encountered harrassment on the road. So I'm curious, fellow lady riders: have YOU ever been accosted when traveling alone on your bike? What did you do about it?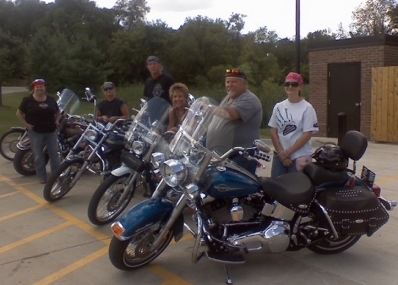 Had another great weekend on the bikes – first chance to really test out the new 1200 Custom. I knew Steve was wanting to get the oil changed (she only had 1300 miles on her and hadn't yet had her thousand-mile service) but I wanted to ride. Because I always get my way, we rounded up a great bunch of friends including Wade, Howard, Susan (Coyote!), Steve, myself and our daughter Stephanie, for a shakedown cruise on Saturday afternoon.
What a beautiful day – calm, mostly sunny, warm – just perfect. We took off from the far south side of Des Moines and headed west to Highway 28, which took us South through Norwalk to Highway 92 at Martensdale, then west to Winterset. (Yes, we ride to Winterset fairly often – LOL – it's a lovely small town, a sort of "gateway" to Madison County riding, and my mother's whole family happens to be from there so it has a bit of a special place in my heart.) Thus far the 1200 and I were getting along great – she rides so smooth at highway speed, and the handlebars Steve had put on for me were SO much better than the drag bars she came with. We stopped at Casey's at the junction of Highway 92 and 169 for a break – always lots of good conversation on these little breaks, sometimes bike-related and sometimes not. On this trip, Steve was testing out the video camera we'd given him for his birthday, and wanted to find a four-lane highway so he could up alongside each of us to shoot a little riding footage. The nearest choice was the Highway 5 bypass that runs east to west across the south side of Des Moines, so we decided that we'd take 169 north to a county road that would take us back up toward Norwalk and the bypass.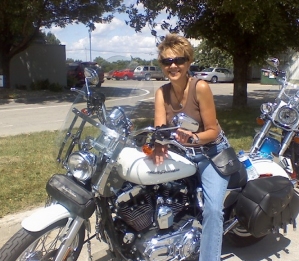 We left the Casey's behind and traveled north up 169 til we found a county road called G4R. Now Madison County is about as beautiful as Iowa gets with its rolling hills and lush valleys, and in that respect G4R did not disappoint with its lovely rural homesteads and pretty curves. Where this road completely failed was in the area of maintenance. It's a prime example of my comment about "seams" – actual raised seams that remind me of welts – in Iowa road repairs. They don't look like much – they raise up probably less than 12 inches. But on a bike, they're jarring and, if tall enough, unsafe. Adding to the discomfort is that they're always a surprise – you can never really tell when one's coming up – and it can be downright painful to go over one. At one point, the whole right-hand portion of our lane was busted up and a few in our group had to swerve to miss it. Given the six-figure value of some of the beautiful new homes along this road, I'm surprised the County would let this road stand the way it is. I'm surprised the folks who live along here would put up with it.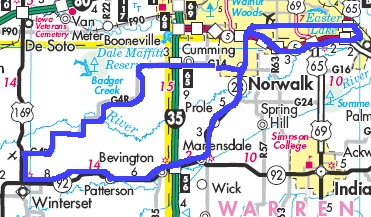 G4R became G14 at Cumming, and took us back into Norwalk where we turned north to head back to Highway 5. Once on 5, Steve rolled up alongside each of us in turn in the left-hand lane and had Stephanie shoot some video of us riding along. A few miles later we exited Highway 5 onto Des Moines' Army Post Road, and we ended the ride with a beverage break at the same Casey's we'd departed from at 1:30. We recruited a random customer to snap a photo of our entire group, then headed home.
Later, Steve, Stephanie and I got to watch the videos that Steph had shot… only to see them get accidentally deleted from the camera before being saved to the computer. So, no video from this trip, but we did learn that the camera works pretty good and Steph knows how to get some great shots!
When we moved to our new house last fall, I realized that all my  "shabby chic" and garden-style home accessories weren't really going to look right in our new late-50's ranch-style home. (Not that you could see them through all the clutter in the old house, but… I tried.)
Same with the new bike… I always thought of the Picky Bitch as my "rough and ready girl." In my mind, she was sort of old-style in looks (because of the peanut tank) and "western" in spirit – in a classic cowgirl kind of way.  So I outfitted her with bad-girl fringe, slouchy saddlebags, and "live to ride" eagle emblems.
New Bike already feels really different – sleek and lots of chromey bits (including my fave – spoked front wheel!). I did put my fringe lever covers on her, but I'm not sure they "fit" with her personality.
On the other hand, maybe she's just a more powerful cowgirl. Guess I will have to ride a bit more and let her tell me what she's all about.
Either way, I'm not givin' up my red Ariat boots!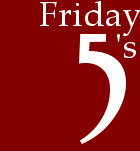 I've often thought it would be nice to live in a state where the weather allowed for year-round riding, but lately I've been coming around to the notion that having a "winter break" is worthwhile.
Since I've owned a bike and ridden around a fair bit of this state, I've come to realize a few things that now make me glad I ride where I do.
1. We've got curves! Sure there are some spots in Iowa where it's nothing but long, flat ribbons of highway. But, it doesn't take long to find the kind of twisty curves that make riding a blast – Madison County, for one… eastern Iowa for another… the Loess Hills of western Iowa… and much in between.
2. We've got scenery! Whether you're coming around a curve as Saylorville Marina comes into view, or cresting a hill on F48 with lush green rolling farmland laid out before you, Iowa is a beautiful state.
3. We've got four seasons! And only one of 'em isn't suitable for riding, usually from about late November through mid-April. But, here's the thing: that forced winter break makes you really appreciate the riding time you DO have, so none's wasted when the opportunity finally arrives. And, if you've got plans for major changes to your bike, you can make 'em in winter so you don't have down-time during the riding months.
4. We don't have traffic! Someone mentioned this in the comments of one of my posts (or was it in a forum?) recently… she lives in CA and said yes, they have year-round (almost) riding but it takes TWO HOURS or more to get anyplace where there isn't a lot of traffic, just so you can slow down and enjoy the ride. I don't know about you, but I can find a beautiful twisty and low-traffic two-lane just ten minutes from home that's perfect for a mind-clearing ride any time I need it. I can ride all summer without ever once using the major Interstate that runs along the north end of town, or even the freeway that cuts through the middle.
5. We've got road food! We still have lovely, flourishing small towns filled with local home-spun restaurants so you can spend your entire riding life fulfilling your quest to find the best pork tenderloin. And, as an added bonus, there's usually a local roadside oddity or historic site to make the day more interesting.
My one gripe about Iowa as far as the bikes are concerned? Road repairs are getting shoddy… it's not that they aren't making them, it's that there seems to be a trend to make a raised seam across the road when a repair is made. Everyone who works for the DOT – from engineers to road crews – should be forced to ride these repaired roads on a Sportster before they call it quits for the day. If Iowa wants to attract more bikers as tourists, they should mark my words and make nice, SMOOTH road repairs. (St. Donatus, are you listening?)
SO – your turn to share your view: why do you like riding in the state you live in? What do you NOT like? Do you STILL wish you lived in a year-round-riding state? Let's hear it!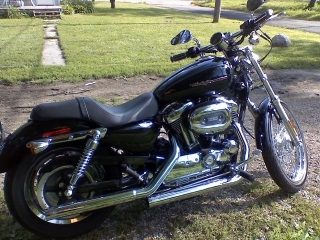 And *snap,* just like that, I'm the proud owner of a new bike! Here's my gleaming new-to-me 2007 HD Sportster 1200 Custom! Couple of changes that have to happen QUICK – need to put the stock handlebars back on it (these drag bars are RIDICULOUSLY narrow and too far forward), and it needs a windshield. But, this bike is FUN, and gorgeous.
'Course, that means my 883 will soon be for sale so watch this space for complete info. WOOHOO!
Update 1, 7/22/09: Handlebars totally fixed and COOL now thanks to Steve and Garry… also added the windshield off the 883 AND Kristin gave me a nice luggage rack to put on so I've got something to hook my T-bag to. Took a nice evening solo ride to get some bonding time – funny, she's a little sluggy at slower speeds (think that's because someone put Vance & Hines pipes on her but didn't do any re-mapping to account for them) but on the highway, she's zippy and nimble, and rides smooth. 
Update 2, 7/23/09: Here's a fun bit of minutia – I found the post on this blog where I announced the purchase of The Picky Bitch, and sharing my first impressions of her. Of the problems I mentioned, we never did do anything about the clutch and with regular use it got easier for me to pull.  And of course, I put buckhorn bars on it shortly after I bought it and rode those for a couple years, then had mini-apes put on it in 2007 and rode those for two years. The one thing I noticed that didn't "hold up" from my original post was the notion of not needing a sixth gear. The bike didn't feel strained at 60 mph, but at 75 (going across I-90 in South Dakota) I did wish for one more gear. Certainly not a problem, just something I noticed.  Kind of neat to have all this "history" recorded to look back on!
Sometimes my random web reading really pays off. I have a "Google alert" set up to notify me whenever someone writes a blog post using the phrase "biker chick," and many of the results are utterly useless. THIS, however, is quite possibly THE FUNNIEST 'biker chick' story I have ever read. Check out what happens when 'Dreamgirl' goes on a date with her tall, dark and mysterious Spanish Harley rider.
Haha, Shirley's been bit by the "Iowa Historic Marker bug." She told me the other day that she really enjoyed the trip to Tama and got to thinking about other historic sites around the State, and now wants to ride to the American Gothic House in Eldon, and the Villisca Murder House. Both of which are ALSO on my must-ride list, so we will be planning those soon along with a visit to the Grotto of the Redemption in West Bend and the museum showcasing the wreck of the Steamboat Bertrand in Missouri Valley.
Cripes, if you want to wallow in accident reports, set up a Twitter alert for the words "woman motorcycle".  Nothing but death and destruction. But, there was one gem, from @MissAdventuring (Carla King) who linked to this  thorough "how-to" guide to buying a used motorcycle.
Finally, earlier this spring Harley-Davidson's very own Willie G. Davidson was a presenter at the American Country Music Awards and participated in the Chairman's Ride. Video footage of the ride is now available and features many of country music's biggest stars including: Eddie Montgomery, Troy Gentry, Toby Keith, James Otto, and Krista Marie, as well as Willie G. Davidson. Check out the ride at the HD YouTube channel.

This was a weird weekend for riding – all my weather sources predicted partly-cloudy, unseasonably cool conditions (low 70's), and no rain. So based on that, I was insistent all week that we were going to ride over to Tama to check out a little piece of history: the Lincoln Highway Bridge.
By the end of the work week, it was apparent that "partly cloudy" actually meant "really overcast." And you could look up at the sky and state with fair certainty, "It's going to rain." But the forecasters remained steadfast, so we decided first to take a chance and head down to Indianola for Bike Night on Friday. Turned out to be a great evening – cool, but not bad riding with the right jacket and gloves. Lots of bikes gathered around the Square, and by the time we rode home around 10 pm, it felt like it had even warmed up a few degrees. We were on track for the Saturday trip to Tama.
Saturday was pretty much just like Friday night – cool and cloudy. But, I'd been looking forward to the ride all week, and I suppose at this point only a downpour would have kept me from proceeding. We met up with Garry & Shirley as planned, and took off along Broadway Ave. to the east, out of Des Moines and through Altoona. East of Altoona, the road becomes county road F48, then transitions into Highway 6 once you cross Interstate 80. This is actually one of my favorite local roads – it passes through Colfax, Lambs Grove and Newton with some beautiful views of lush Iowa hills and farmland, then becomes extra-curvey (with new pavement!) from Newton to Grinnell. It took about an hour to reach Grinnell – we stopped there to top off the gas, and took a 20-minute butt relief/warm beverage break.
My original plan had been to ride all the way to Marengo, which is quite a bit farther east than we needed to go, and then to backtrack along a designated scenic highway from Marengo to Tama. But, because we'd actually caught a few drops of rain outside of Newton (which thankfully did not become a full-fledged shower), I decided to cut the scenic part of the ride short. The new plan was to go six more miles along Highway 6, and connect with 63 North on into Tama, which was only another 22 miles.
We came into Tama on 63 from the south, turned east on Fifth Street, and crossed the Lincoln Highway Bridge at the east end of town. There is a nice turn-out with an historical marker and parking area at the east end of the bridge, so we stopped there. The Lincoln Highway was the first paved transcontinental highway in the United States, and the nation's first national memorial to President Abraham Lincoln. It would be easy to say the bridge itself was anti-climactic – but it really wasn't. It's short, certainly – not even a hundred feet long – and it only crosses a small creek rather than a big river or major waterway. But the thing is, it's the only remaining original Lincoln Highway Bridge in the nation – it's most outstanding feature is the concrete lettering in the rails that spells out "LINCOLN HIGHWAY." We took several pictures and read the text on the historical marker, then crossed the highway to have lunch at the King Tower Cafe which is almost as old as the bridge.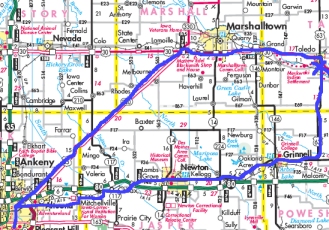 The King Tower is one of those mom-and-pop gems that serves fresh home-made food and appreciates the travelers who stop and take the gamble rather than opt for the "safe" fast food just down the road. It fit our "ride to eat" philosophy really well, and lunch was outstanding.
The ride home was much quicker – instead of the slower-paced two-lane, we took US 30 west to 330, then southwest into Altoona and Des Moines, which only took about an hour. (The sun even came out on the way home!) Having started our adventure by leaving home at 9:30 a.m., we were home by 4 p.m. – and, had only traveled about 150 miles. But it's the kind of ride I really like – pretty roads, an interesting destination, good food, and as always, family and good friends who are willing to humor me. Here's the album of photos on Webshots!
Your Turn! Have you visited the Lincoln Highway Bridge, or any other LH sites around the US? Are you as big a sucker as I am for historical markers? What's the best "mom-and-pop" place you've ever discovered? Tell us about it in the comments!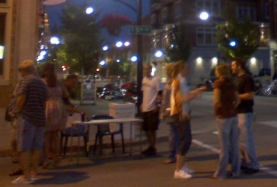 Threatening weather (which never materialized) kept most folks away from East Village Bike Night on July 10, but Saturday the 11th was a great day for a ride. We started out with a trip up to Big Barn HD for the Summer Celebration. For me that translates into shopping and free lunch – I refuse to play the silly outdoor games until they bring back Chicken Bingo, which, in case you are unfamiliar, is an amusing adventure involving a chicken and her poop.
Anyway, shopping was successful (bought a pink leather pouch to clip to my jeans) so we then headed out on a short ride by taking a slight deviation from the usual "Madrid Loop."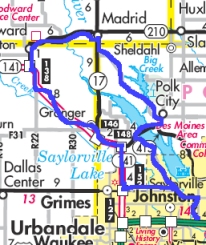 We traveled up to Madrid via NW Beaver Drive, through Polk City and up Highway 17, then west to Woodward and south to Highway 141. Headed Southeast on 141 back to 44 and then west on 44 which brought us into the north end of Des Moines at Johnston. About 70 miles total, I think, but made for a nice (if short) afternoon accompanied by Garry & Shirley – thanks guys!!
I wish I had stopped to take a picture from the Des Moines River bridge just west of Madrid. As you head out of town on Highway 210 toward Woodward, there is a row of cement pilings that used to hold up a railroad bridge. There's no bridge or trestle anymore – just the cement towers. And the river in this area has apparently been really low for a couple of seasons because it's just a small snakey stream  running through a lush green valley of a riverbed.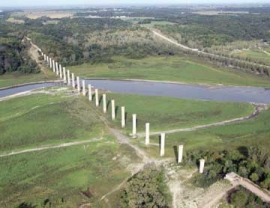 Garry tells me the towers are going to be used to hold a recreational trail, a project also mentioned on the Iowa Natural Heritage Foundation website. For now, the view of it from the highway is very surreal-looking – these man-made cement towers with no discernable purpose rising up like soldiers in a row through the grassy, nearly-dry riverbed. The aerial photo used here is from the INHF website and doesn't look nearly as alien as the view from the highway, but it does show the condition of the riverbed and the highway running parallel to the row of towers at the right.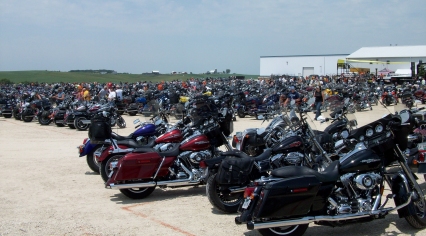 Cripes I turn around and the summer's half over! I have been MIA from this blog and all my others for a few weeks, but I am back and promise to do better by y'all who anxiously await word of my adventures. (THANK YOU for that, by the way.)
I've spent a few weekends working on my flower garden at home, but prior to that we did have two very nice rides around south-central Iowa that I will try to blog about at some point in the very near future.
For now I wanted to make sure to share the story of our recent trip to J & P Cycles Open House in Anamosa, Iowa.  Been trying for YEARS to make it to this event and for one reason or another it just never worked out.
This year it came up as a last minute reminder from Garry and Shirley so we decided to "just do it."  Keep in mind the weather here up til about two weeks prior had been cool and wet (at least for Iowa in summertime). Then we hit a hot patch, which hung in there til literally about 4 p.m. on June 27. (That's the day of the ride, for those keeping track.)
Now normally a trip to Anamosa on the bike is about a 3-1/2 hour deal, about 170 miles or so. But not for us. No, when you ride with us you have to go south to go north, which is exactly what we did. Steve and I, along with our daughter Stephanie, rode down to Carlisle to meet up with Garry & Shirley, from there to the Casey's just outside Pleasantville to pick up Chuck (Shirley's BIL), and from there (for whatever reason) decided to take "92 over to Washington." Mind you, I thought this would be straight east – but it wasn't. Turns out you just subtley keep going southeast, then, finally, just as you are crying out to the heavens "WHY ARE WE GOING SOUTH WHEN WE WANT TO GO NORTH??", you turn left at Washington and then you are going north. And realizing you still have a two-hour ride.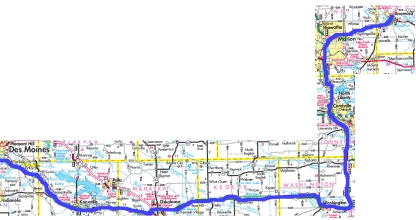 So, short version, it took us about 5 hours to ride about 203 miles from Des Moines to Anamosa. That's with our usual frequent stops for water and potty breaks, of course. Everyone likes to blame me and my tiny gas tank, but I can tell by the constant bum-rubbing that they are all secretly ready to take a break each and every time.
Anyhoo, the map shown here is NOT to give you the exact route we took – I know your eyes are too bad to actually READ it… it's just meant to show you how far out of our way we went. (And enjoyed every minute, I think… well maybe Stephanie didn't enjoy EVERY minute…)
So finally arrived in Anamosa and parked just inside the gate, great view of the "sea of bikes" but also a lonnnggg ways from the building and the activities. We found the water/food vendors easy enough (FREE water – bless you, J&P!) and tried to stroll/shop, but there were just too many people and it was too dang hot to be outside. After about 90 minutes or so we decided to head back home. (Yes, five hours in the saddle for 90 minutes of stompin' around in the heat, bitching. Is it any wonder you think bikers look crabby?)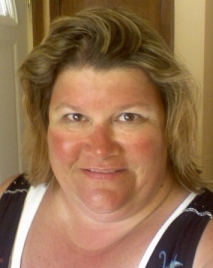 Took the most direct route home, 151 west to Marion & Cedar Rapids (hit a VERY brief patch of rain just a mile or so outside of Anamosa), then 218 South to the Interstate, then I-80 west to Newton, then 14 south to 163 (where Chuck spun off to head home to Pleasantville), and 163 west into Des Moines. Somewhere in there, the humidity shut off and it was almost cool for the last bit home. (It's that Iowa weather – if you don't like it, just wait around 5 minutes and it'll change.)
Here are the rest of the photos, most of 'em courtesy of Stephanie (our official event photographer – did I mention we LOVED taking her along?).
And, just for the record, it's two weeks later and I'm STILL sportin' that fine burn line that shows pretty clearly where my helmet and sunglasses end and my uncovered face begins.  It's good to be a biker chick!