Weather's been beautiful here during the work week but crappy on the weekends, so I haven't been out on the bike for awhile. But, Cassie took the opportunity to ride to Freedom Rock near Greenfield on Monday, May 18. The group traveled over to meet the riders who are heading from the west coast to The Wall in Washington, DC in honor of Viet Nam veterans. (I think I'm going to have to make Cassie an official "stringer" for Biker Chick News – she takes a lot of great pictures and she manages to make the rides I usually miss!)
Freedom Rock is a large boulder situated on Highway 25 just north of Greenfield, Iowa. Each year, artist Ray Sorensen paints a veteran-themed collage on the rock to recognize US veterans.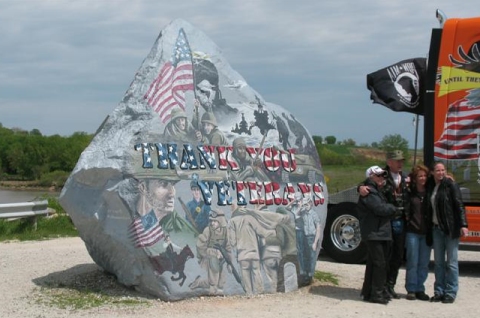 That's Ray in the white sweatshirt.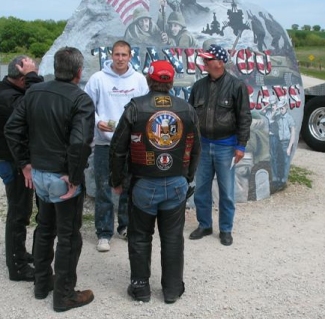 Here's a great-looking "rat bike" full of memorabilia – the riders also stopped at the veterans' cemetery in Marshalltown, Iowa.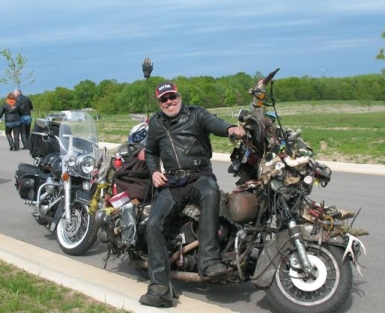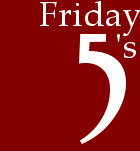 When I took my skills test to get my license, I didn't understand why the entire test was based on slow-speed skills. After riding awhile, I finally figured it out: It's not about whether you can go straight down the road and shift the gears – almost anyone can learn to do that. It's whether you can control the bike, evade obstacles, and be safe in high-traffic or large-crowd situations that makes you a really good rider.
So, having brushed the chip off my shoulder regarding the importance of slow-speed maneuvers, I thought I'd share five skills you can practice that will help you feel more confident on the road, more in control of your bike, and overall a better rider. I've also included at the end a few links to websites that have good practice guides if you want more tips or more exercises to practice.
1. Right-hand turn coming off a stop.
Why it's good to practice: It's easy to go too wide, into an oncoming traffic lane.
Your goal: Keep your bike confined to the correct lane as you make your turn.
Tips: After checking for traffic, look ahead to the point where you want to end up – NOT into the oncoming lane and NOT at the yellow line in the middle of the road. Don't apply the front brake when making your turn or the bike will go down.
2. Left-hand turn coming off a stop.
Why it's good to practice: It's easy to go too wide, into the opposite curb, when turning onto a two-lane street.
Your goal: Keep your bike in the correct lane and away from the curb as you make your turn.
Tips: After checking for traffic, look ahead to the point where you want to end up – NOT at the opposite curb. Don't apply the front brake when making your turn or the bike will go down.
3. Starting from a stop on a hill.
Why it's good to practice: You don't want to stall the bike or roll backwards into cars behind you when it's your turn to come off the stop sign or red light.
Your goal: Smoothly pull away from your stop without killing the bike and with less than a foot of roll-back.
Tips: Find a low-traffic, hilly neighborhood to practice in if possible. Slowly release the clutch til you feel it grab, then give just enough throttle to move the bike forward. Also practice this by turning right or left off the stop by combining with the tight-turn tips above.
4. Sudden Stops.
Why it's good to practice: You need to get a feel for controlling your bike in a quick stop.
Your goal: Come to as quick a stop as possible without skidding or locking the brakes. 
Tips: Practice with a riding buddy so they are on hand to help if you go down or get hurt. Find an empty parking lot for practice. Ride straight, getting into second gear. Then "suddenly" apply both brakes with even but firm pressure. If you do lock the brakes, DO NOT immediately release them or you'll be thrown high-side or low-side off the bike
5. Riding in a tight circle or Figure 8.
Why it's good to practice: It will teach you to really control your bike, make tight turns successfully, and that "looking where you want to go" really works.
Your goal: Ride in a continuous ten-foot-wide circle or in a nicely-formed figure 8 with ten-foot-wide loops.
Tips: Watch instructional videos such as the Ride Like A Pro series to see how it's done. Look where you want to go – looking across the circle at a point directly opposite you should take the bike in a nice tight circle. Feather your clutch for speed control; use the REAR brake, not the front. 
Here are a few other resources:
 http://ridemyown.com/articles/riding/index.shtml
 http://motorcycleassistant.com/motorcycle-practice-exercises/
 http://www.bcrider.com/practice.html
It may not be the cover of the Rolling Stone, but still pretty cool: Harley Davidson is looking for 10,000 HD owners to be featured in a photo mosaic on the cover of their 2010 Motorcycle Catalog.  Riders around the world are invited to pick a favorite photo of themselves with their bike or of a riding experience (rallies, events, etc.) and upload it to the mosaic through the Harley-Davidson website. Of course, you must be the owner of the photo to upload it – you can't upload someone else's personal or professional work.
Here's the submission link with complete details: www.harley-davidson-mosaic.com.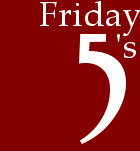 In celebration of Women Riders Month and Biker Chick News's fifth birthday, I thought I would invite a fellow biker-chick blogger to write the companion to last week's "Friday Fives." So, while I provided my "5 reasons to ride your own," here is Stephanie (aka Iowa Harley Girl) to take the flipside with "5 Reasons to Ride Pillion."
A big thanks to Janet at Biker Chick News for asking me to write 5 Reasons to Ride Pillion/Passenger!
1)  When you ride your own motorcycle you are unable to see all of the scenery going by because you have to pay so much attention to the road and the crazy people driving cages around you.  Being a passenger you get to see it all.  Plus you may also see hazards that the person you are riding with hasn't noticed and can alert them of them.  One of my favorite memories being a passenger were the beautiful sunflower fields I saw on one of my trips home from Sturgis Bike Week.
2)  If you are afraid to ride your own motorcycle you can still experience a freedom like you have never experienced before even on the pillion seat.  Being on two wheels even as a passenger is such a spiritual experience and you have someone to hold on to if you need that extra sense of security.
3)  Maybe you are unable to afford your own bike so riding as a passenger is the next best thing to riding your own.  This is the reason I don't ride my own.  I can't afford a motorcycle right now.  Riding with my husband fulfills the passion that I have for motorcycles and the open road.  And we have such great memories of our travels that it makes up for me not having a motorcycle right now.  I can't imagine not riding just because I don't have my own.
4)  You may enjoy the thought of the risk factor involved in riding on two wheels but you don't want to be responsible for piloting the motorcycle down the road.  It's like skydiving with a partner except you are on a motorcycle.
5)  Riding Pillion usually stops you from getting hit with rocks or getting bombed by bugs because you have someone in front of you shielding you from all the hazards of the road.  The one hazard that you might have to put up with is being whacked in the head with an antenna if there is a radio on the motorcycle you are a passenger on.  Make sure you get the person that you ride with to change that because it really does hurt getting whacked with that when you are going 65 – 70 mph.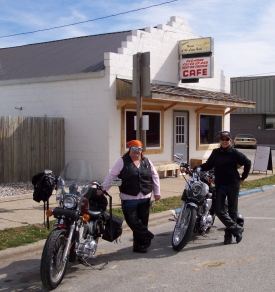 I post a lot of information here about events and rides hosted by my local HOG chapter and/or Big Barn Harley Davidson, because those are the ones I get notices for and because that's my bike brand and home dealership.
But some of the other dealers certainly host rides and events too. My friend Cassie sent an email recently reminding me about the season's schedule of dinner rides hosted by Struthers Brothers Suzuki-Kawasaki-Triumph here in Des Moines, so I thought I would share the info – hey, bikers are nothing if not hungry, right??
All rides leave Struthers promptly at 4:30 p.m.; Struthers is located at 5191 NW 2nd Ave. in Des Moines, just a half-mile north of Interstate 80.
May 23 – Ride to Georgio's in Colfax.
June 6 – Ride to Drifter's in New Virginia.
June 27 – Ride to Matt's Smokehouse in Dallas Center.
July 11 – Ride to Boone for BBQ
July 25 – Ride to Just Ethal's in Yale.
August 8 – Ride to State Center.
August 29 – Ride to Hickory Park in Ames.
Although I haven't been on a Struthers ride yet, it sure seems to me that "dinner" is a great reason to ride! In fact, some of my favorite days on the bike have included stops at similar locally-owned eateries in Audubon, Kellogg,  and even Pisgah!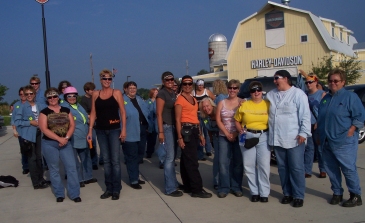 The Harley Davidson company has proclaimed (among just a little bruhaha) May to be Women Riders Month, with a variety of events and celebrations planned to call attention to the number of women riders now on the roads.  As I've pointed out in some of the discussions about the value of a celebratory month, this is HD's way of celebrating and catering to their growing female ridership. While some don't see the need and feel like HD is pandering to them, I say that this kind of attention is good.
For one thing, it raises the visibility of motorcycling in general. As HD spends time and money promoting its products and programs aimed at women riders, it calls attention to the very facts that a). motorcycles exist and share the road; and b). in the seasonal states, it's now motorcycle season so drivers should be on the lookout.
For another thing, it encourages women who aren't yet riders to get out there and follow their dream to learn. If a women wants to get off the passenger seat and take control of her own machine, she should absolutely be encouraged to do so. Maybe seeing more women riders on the road will convince others that it's time to ride.
Finally, this celebration should not be and does not need to be limited to the Harley Davidson company. With HD having taken the step of publicly acknowledging and celebrating their share of the women's market, other groups should follow and grow Women Riders Month to include safety and educational components, local riding celebrations for all makes and models, and more. Just because HD said it's Women Riders Month, doesn't mean they're the only ones who should be celebrating. While HD may dominate the celebration this year, it would be great to see other companies and organizations add more components to it for next year and beyond.
Okay gals, enough talk – it's a bright blue sky, and reaching for almost 70 degrees today. It's also Demo Days at Big Barn Harley Davidson. Think I'll go for a ride. How about you??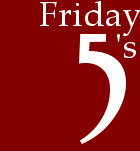 This week on Friday Fives, I offer five reasons why I love to ride my own motorcycle.
Accomplishment – I've been riding seven years, and still today every single time I'm on the bike I feel so good about myself for having persevered and learned this new skill. The fact that I'm still in the minority of women makes it extra-special.
Independence – I'm very lucky: my husband Steve is a safe, smart rider with (overall) good habits. Still, I like being in charge of (or at least responsible for) my own destiny.
Freedom – Sure you love the house, the husband, the kids… and all you do every day to keep them all comfortable and functioning. But wouldn't you love to be able to say something like, "Hey family, I'm headed off on the all-women's bike trip. I love you, and I'll see you next week." And mean it?
Rebellion – Similar to freedom, but taking into account that lingering bit bad-ass the general public attaches to riding a motorcycle. Trust me: it feels good to be different, to buck the status quo.

Community, support, and encouragement – Okay, that's three things, but they're all related. I believe that women, moreso than men, seek community, support and encouragement throughout all of life's challenges. Riding is no different, and the woman-centered communities that exist around riding are as strong as – or stronger than – any you'll find anywhere. If you want to rebel, but belong, ride your own.
What about you – what got you started riding your own, and what keeps you in the driver's seat
Coming next week, IowaHarleyGirl Stephanie will guest-blog with "Five Reasons to Ride Pillion."

Motoress.com proclaims May 1, 2009 "International Female Ride Day" – if you're a woman who rides, I encourage you to get out there and make a spectacle of yourself (um… in a good way, ok?)!
Image courtesy www.motoress.com.